Australia Halliburton
1999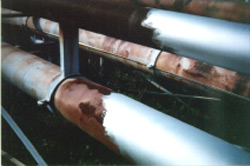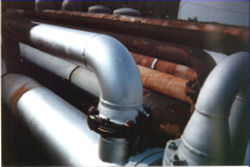 18th October, 1999
Mr. Tony Brady
Managing Director
Superior Hi-Tech Coatings
P.O. box 288
ENFIELD PLAZA SA 5085
Dear Sir,
We have been using coatings supplied by Superior Hi-Tech Coatings since late 1997 when Super Therm insulation Coating was used successfully for heat reduction on computer boxes and fuel tanks on our pump trailer in Moomba.
Positive results with the above led us to try Rust Grip, Super Therm and Enamo Grip on our nitrogen tanks for protection against the elements on offshore rigs. Results to date have been successful.
We are in the process of refurbishing our acid tanks internally using Rust Grip and Lining Kote. The first few tanks have now been in operation for more than 14 months. Inspection reports indicate there is no sign of cracking or any penetration of the acids. We are also refurbishing our existing frac tanks with Rust Grip and Lining Kote.
We have recently commissioned 2 new 500-barrel frac tanks. Treated internally with Rust Grip and Lining Kote and externally with Rust Grip and Enamo Grip.
The same coating system is currently being used on our new LGC Tanker and we envisage continuing to use these products.
Yours faithfully,
HALLIBURTON AUSTRALIA PTY LTD


ANDY DEWAR
Operating Manager